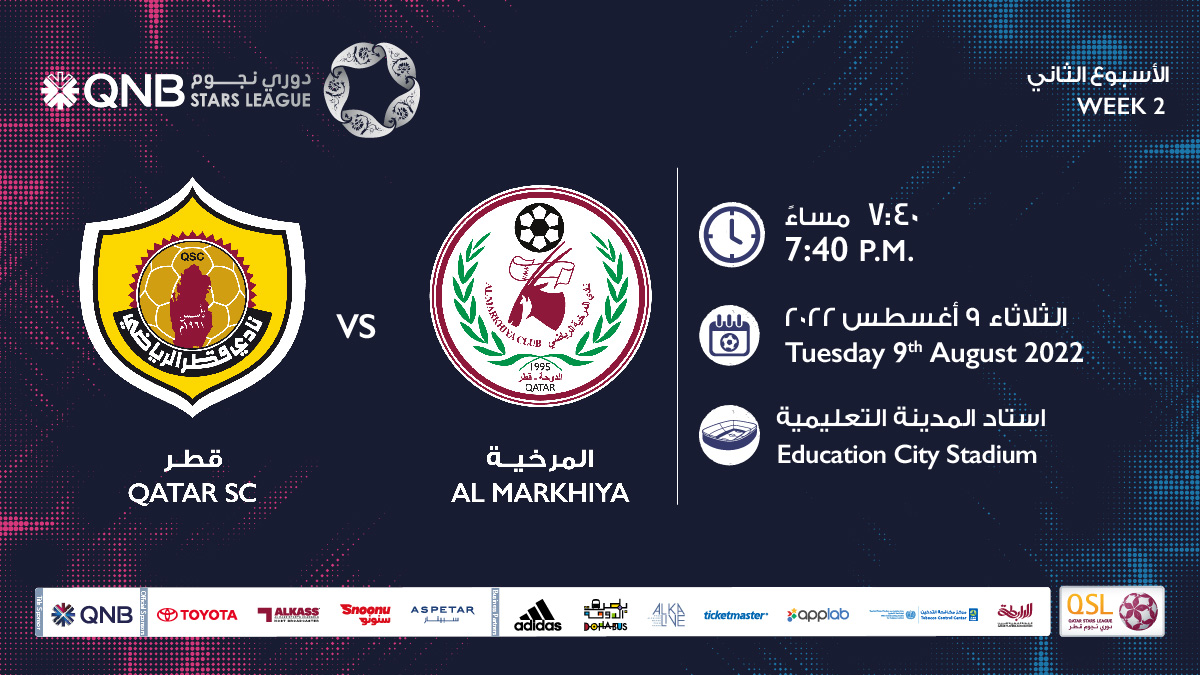 Qatar SC face Al Markhiya in Week 2 of the 2022-2023 season QNB Stars League. The kick-off is at 19:40 at the Education City Stadium on Tuesday, 9th August, 2022.
While both sides will go into the match aiming for a win, promoted side Al Markhiya, who beat defending champions Al Sadd in the opening round, will be motivated to continue with their good success.
Qatar SC lost to Al Arabi in the first round and would be eager to bounce back with a win. They also have Moroccan defender Badr Benoun having included him in the ranks to be an addition to the team this season.
With their top-notch 4-3 victory over Al Sadd, Al Markhiya gained three valuable points and are third in the points table and would be aspiring to continue their form while Qatar SC will look to get their first three points.
Al Markhiya coach Abdullah Mubarak wants his team to continue with the momentum they have gained with a flourishing start. Their Iraqi international Aymen Hussein scored twice while former Al Sadd player Algerian Jugurtha Hamroun was the man-of-the-match with two assists and a goal. Ali Al Mohannadi fetched the winning goal.
For Qatar SC, the match is of great importance and a strong contest for Moroccan coach Yousef Safri, who wants his side to register their first win of the league. While he has Benoun to rely on, he will be missing Sebastian Soria who was given the red card during the match against Al Arabi.
A few Qatar SC players are also overcoming injuries and Safri would hope for them to be fit in time for the clash against a challenging Al Markhiya.