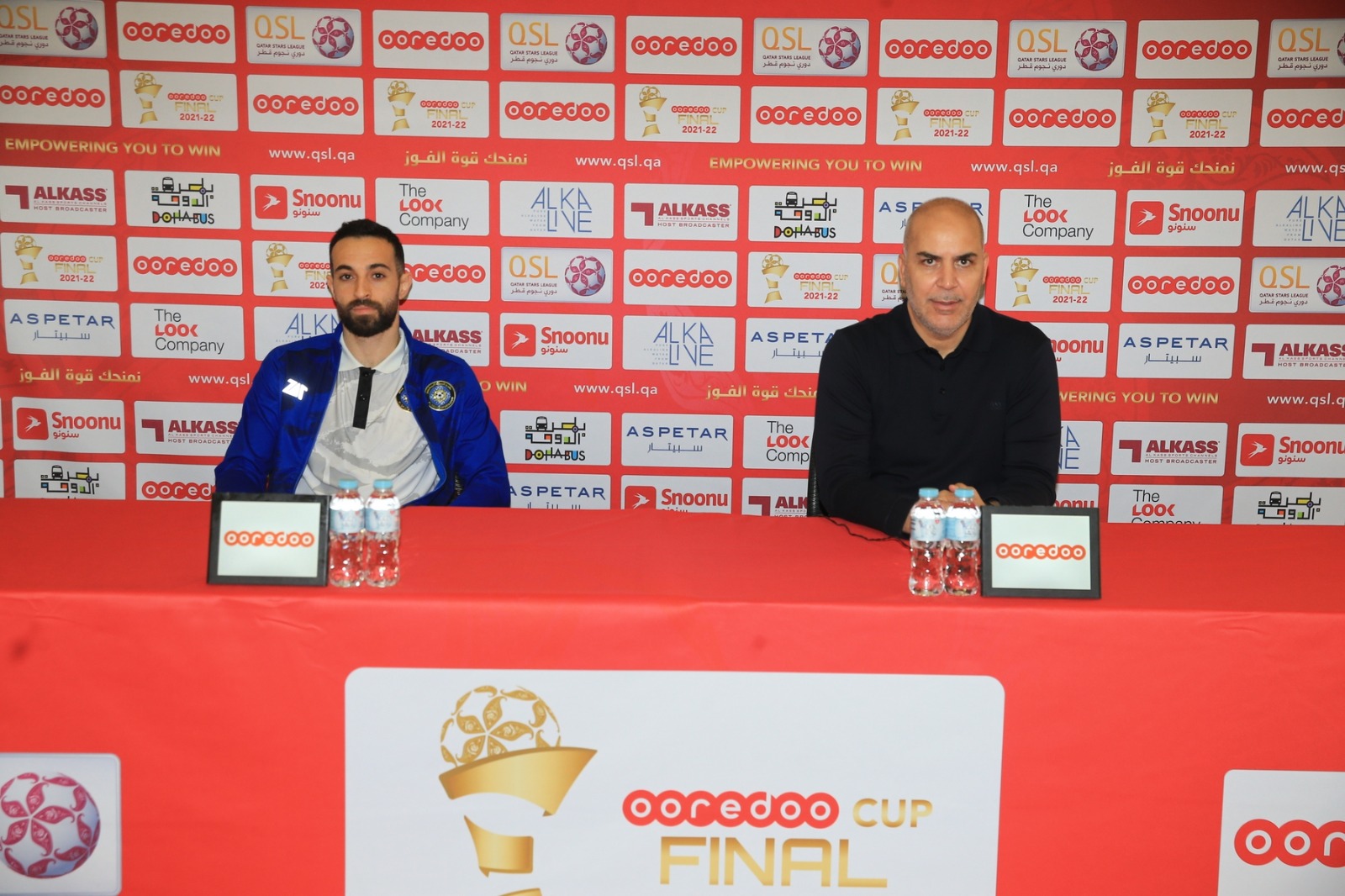 Al Sailiya coach Sami Trabelsi and player Driss Fettouhi spoke to the media on Sunday ahead of their 2021-2022 season Ooredoo Cup final against Al Wakrah. The match will kick off at the Jassim bin Hamad Stadium of Al Sadd club on Monday, 28th March, at 18:30.
"We will do everything possible to win the championship. The season was very difficult, during which we faced many challenges, the most prominent of which was playing the Play-Off match. But with the efforts of players, we were able to survive in the First Division.
"As for the Ooredoo Cup, it was a relief for us, away from the pressures of the league, and we played in it with a different face than what we were in the league. Thank God, we managed to reach the final for the second consecutive season and this is a good thing and we hope we can win despite the strengths of the opponents.
"Al Wakrah are one of the best teams this season, so the match will be difficult for both teams, but we have determination to win the title.
"All main players are ready for the match, especially since the championship comes at the end of the season, and there is only the QFA Cup left.
"I think we have not been successful in most of the season's matches and the reason is that we did not succeed in signing a top scorer. In a long period of time during the league, we scored only five goals, including two from penalty kicks, and that was a weak point," said Trabelsi.
Al Sailiya player Driss Fettouhi said, "We are well aware of the importance of the match and all players have the determination to retain the Ooredoo Cup.
"Despite the great pressure on the players in the past period due to the difficult conditions we went through, we are on top of readiness to finish the season the best way by winning a title. We will do our best to finish the season by winning another cup.
"The season was very difficult. Although I had hoped that we would occupy an advanced position in the table when I signed for the team, things went very differently and we competed to stay in the First Division. Thank God, we could avoid relegation through Play-Off and that was not easy at all."