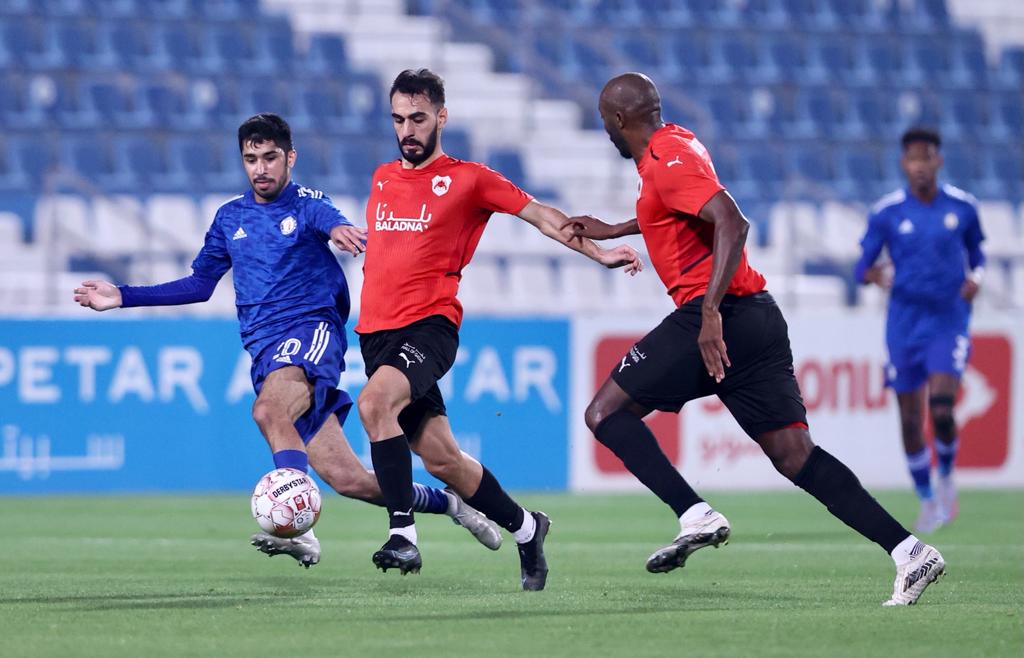 Al Khor and Al Rayyan played out a goalless draw in Week 15 of the 2021-2022 season QNB Stars League at the Al Khor Stadium on Tuesday.
Al Khor and Al Rayyan now have 10 and 16 points respectively.
Al Rayyan were not in action in Week 14 as their game against champions Al Sadd (Qatar Clasico) was postponed.
Al Rayyan made their intentions clear from start. Nayef Al Hadhrami's rising shot was blocked by Al Khor goalkeeper Baba Djibril in the opening minute.
Al Khor, who came off a 1-4 loss to Al Wakrah, slowly started matching Al Rayyan ball for ball.
Al Khor's first real chance came in the 10th minute, but Said Brahimi's shot was too feeble to beat Al Rayyan goalkeeper Fahad Younis.
Al Rayyan's Abdulaziz Hatem hit his hit shot against the horizontal and Mowafak Awad sent the rebound to the side-netting in the 16th minute.
Brahimi came up with a powerful angular shot in the 21st minute, after being set up by Ahmed Al Mohannadi, but the goalkeeper parried the shot.
Al Mohannadi himself had a close call in the 27th minute, but he sent his shot from close range narrowly wide of the target.
Al Rayyan earned a penalty in the 30th minute when Tameem Al Muhaza fouled Hashem Ali. Hatem's penalty was blocked by Djibril, but the referee ruled retake as the goalkeeper had jumped before the kick was taken. However, Djibril blocked Hatem's retake as well.
Both sides effected some substitutions in the second half in search of a goal that never came.
Djibril thwarted Hashem Ali in the 64th minute and Fahad Younis parried Al Khor's Diyab Haroon's shot in the 78th minute.
Al Rayyan missed the services of Yohan Boli and Yacine Brahimi, who are doing duty for Ivory Coast and Algeria respectively in the Africa Cup of Nations in Cameroon.
Al Khor and Al Rayyan had played out a 2-2 draw in the first leg.