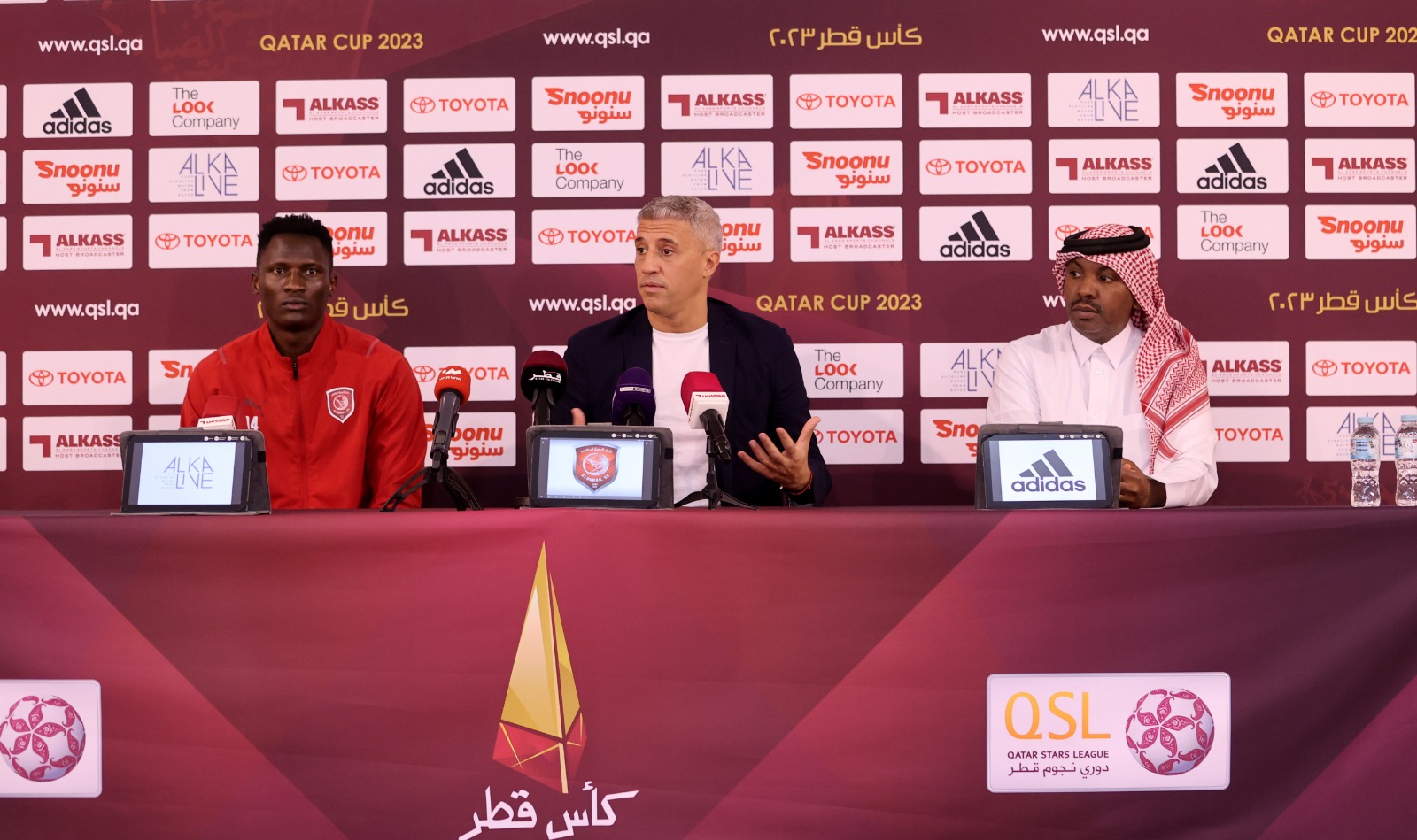 Olunga: We'll continue to work hard to face Al Sadd in the final
Al Duhail coach Hernan Crespo spoke to the media ahead of their Qatar Cup 2023 final against Al Sadd at the Jassim bin Hamad Stadium of Al Sadd club on Thursday, April 6.
"We are very proud to be in this final and we strive hard to win this edition of Qatar Cup. We worked hard to win the semifinal and I hope that our efforts in the final will see us lift the cup. When I took charge of Al Duhail, my goal was to compete for all championships, and winning the Ooredoo Cup has been of particular importance after defeating big teams such as Al Rayyan, Al Arabi and Al Sadd. I would be very happy to win the Qatar Cup too in which most of the teams have participated with the top players. I know how important the Qatar Cup is, we want to win it and we are working hard on that.
"Al Sadd have achieved many local championships triumphs in recent seasons and we are seeking to compete and win against a great side. Thursday's match is important and we strive to win the title.
"We are fighting this season to win all titles. The 'Quartet Dream' (of winning all four titles – Ooredoo Cup, Qatar Cup, Amir Cup and QNB Stars League) is a project and a great goal for us. All of our focus now is on the 2023 Qatar Cup final.
"I was very happy with what the Argentinian national team achieved at the 2022 World Cup and I am also happy to be in the State of Qatar. I am living the best years of my life in Qatar and with Al Duhail club," said Crespo.
Al Duhail's Kenyan striker Michael Olunga said, "The match (Qatar Cup final) will not be easy. We have had a strong morale boost after winning the Ooredoo Cup which also indicates the team's level.
"We had lost to Al Sadd in the final in the previous edition of Qatar Cup. This year we hope to be able to compensate and achieve the title. I am very happy as a striker who scores goals and this is my mission and all this with the help of my colleagues. The Qatar Cup title is one match away and therefore we must focus on our resolve to win.
"Our coach has included many young players who have helped us a lot and we will continue to work hard to face Al Sadd and succeed in the final."