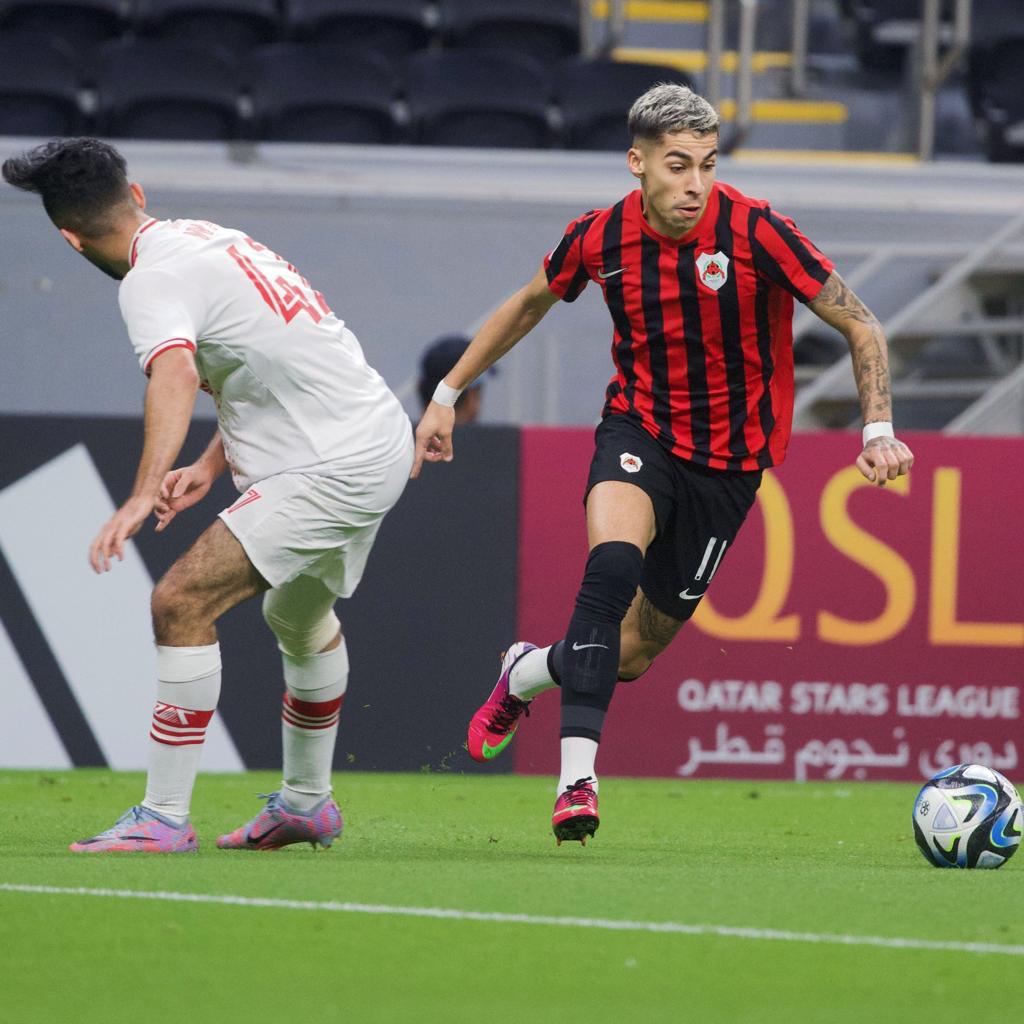 Al Rayyan held on against an Al Shamal fightback to secure a 4-3 victory and maintain their perfect start of the season in their Week 3 clash of the 2023-2024 season Expo Stars League at the Al Bayt Stadium on Saturday.
Brazillian Roger Guedes scored a brace (16th and 74th minutes) and provided two assists, while Khaled Ali (42nd minute) and Ahmed Al Rawi (67th minute) were also on the score sheet for Al Rayyan.
Al Shamal's goals were scored by Ricardo Gomes (seventh and 83rd minutes) and Matias Nani (79th minute).
Al Rayyan have had a strong start to the season, having won their first two matches, defeating Al Markhiya and then Qatar SC with the same scoreline of 1-0, while Al Shamal are yet to record any win, having drawn both of their matches, first against Al Arabi (1-1) in the first round, before holding Al Wakrah to a 2-2 draw in the second round.
Al Shamal drew first blood in the exciting Week 3 encounter through Gomes, who riffled home a right-footed shot from outside the box to the bottom left corner after collecting a pass from Hamad Mansour.
Al Shamal kept up the tempo and Gomes could have doubled his tally in the 12th minute, but his right-footed shot from the centre of the box off Fahad Waad's corner kick was just a bit too high.
Four minutes later, Al Rayyan got their equalizer through Guedes, whose slightly deflected shot went past goalkeeper Babacar Seck.
Khaled Ali restored Al Rayyan's lead in the 42nd minute after exchanging quick passes with Guedes inside Al Shamal's 18-yard box, with the final touch of the ball falling to him. He then powered home a right-footed angle shot into the bottom left corner.
A quick counter-attack in the 67th minute was finished off by Ahmed Al Rawi following a one-two pass with Guedes, with the former slotting a left-footed shot from the centre of the box to the bottom right corner.
Guedes hit his brace, and the fourth for Al Rayyan, in the 74th minute with a right-footed shot from the right side of the six-yard box to the centre of the goal following a Gabriel Pereira cross.
The game was subsequently turned on its head, with Al Shamal desperately fighting to cut the deficit.
Nani's 79th-minute header, following Mahdi Salem's corner kick, put Al Shamal one leg back in the game before Gomes further reduced the deficit with his second of the night to make it 3-4 against Al Rayyan three minutes later.
As much as Al Shamal tried to rally back in the dying minutes of the game, Al Rayyan stood their ground and ran away with the maximum points.