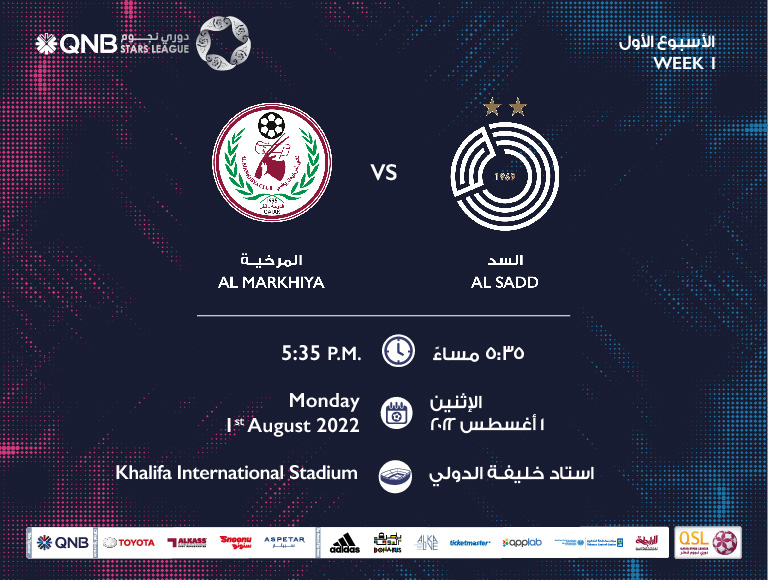 Monday, 1st August, 2022
17:35 kick-off at Khalifa International Stadium
Promoted side Al Markhiya face reigning champions Al Sadd in the opening match of 2022-2023 season QNB Stars League. The kick-off is at 17:35 at the Khalifa International Stadium on Monday, 1st August, 2022.
The result of the match and the valuable three points will be of a high importance for both teams as Al Sadd would seek a strong start to the season, while Al Markhiya will be motivated to win having qualified for the league as Second Division champions.
Al Sadd enter the match under Spanish coach Juan Manuel Lillo 'Juanma' amid the absence of more than 15 players who are in Qatar's national team camp preparing for the FIFA World Cup Qatar in November and December 2022.
Al Sadd have maintained their strength of foreign professional players who will have a big role in helping the side achieve victories in the absence of their international stars. They are Santi Cazorla, Jung Woo-Young, Guilherme Torres, Andre Ayew and Baghdad Bounedjah.
Al Markhiya rely on their several distinguished players, namely Algerians Jugurtha Hamroun and Ayoub Azzi, and Omani Jameel Al Yahmadi besides several rising local players who are on par with the foreign professionals.
Al Markhiya have contracted Moroccan Driss Fettouhi, a former Al Sailiya player who is considered as one of the most prominent names on which the team would rely a lot, and Iraqi striker Aymen Hussein from Umm Salal.
Al Sadd, with Juanma, will be keen to make a strong start despite the absence of their star players.
On the other hand, former Qatari player Abdullah Mubarak would be keen to see his Al Markhiya wards rise to the occasion.