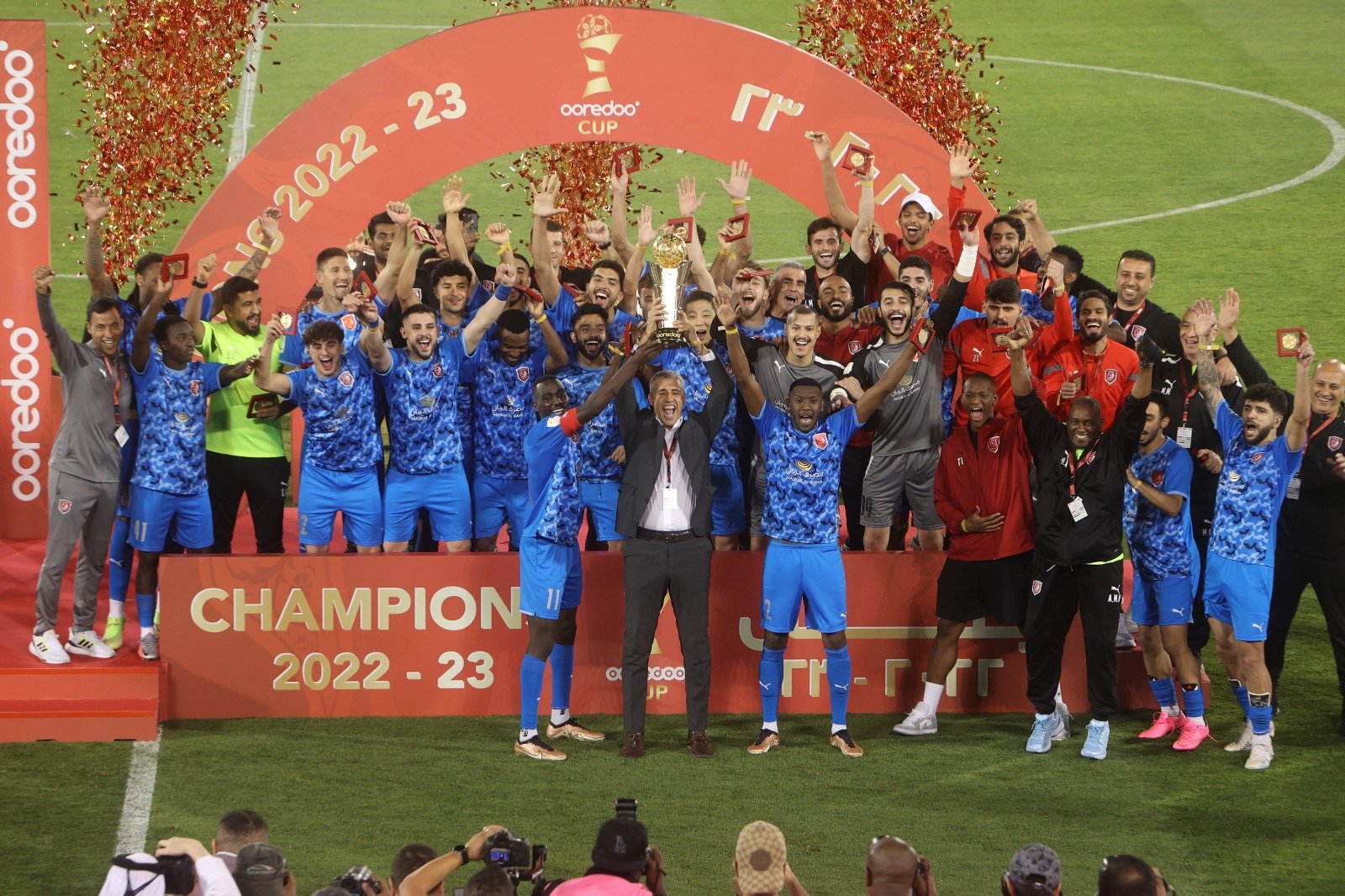 Al Duhail were crowned champions of the 2022-2023 season Ooredoo Cup following their 1-0 win over Umm Salal in the final at the Al Sadd Stadium on Tuesday.
Mr. Hani Taleb Ballan, CEO of Qatar Stars League, Mr. Thani Al Malki, Chief Business Officer at Ooredoo, and Mr. Sabah Al Kuwari, Director of Public Relations at Ooredoo, crowned Al Duhail with gold medals and Umm Salal with silver medals.
The Red Knights' first triumph in the tournament was realized through their South Korean star Nam Tae-Hee's goal which came in the 37th minute of the thrilling clash.
The goal was, however, 'surprising' as it was more of an intended pass which beat all to go through and much to the rivals' shock. It came off Nam's left foot and from a good 10 yards outside of the box from the right and went diagonally to hit the left post and into the net as a bamboozled Umm Salal goalkeeper Khalifa Ababacar watched in dismay.
Al Duhail came dangerously close to doubling their lead later on a number of occasions, but the Umm Salal defence remained agile and forceful.
Another of Nam's big chance was in the 63rd minute when his kick ricocheted off an onrushing rival goalkeeper and he had a clear chance from outside the box, but the threatening kick was cut off by a rival defender in time.
The match gathered more momentum towards the middle of the second half and produced more exciting action with both sides almost close to scoring.
In the 70th minute, Al Duhail's Portuguese player Ruben Semedo's big strike off a rebound was saved by Umm Salal skipper Adil Rhaili right at the goalmouth.
A minute later, Nam's menacing kick was well-blocked by Umm Salal's substitute goalkeeper Samy Beldi, who was introduced in the second half of the match.
In the 80th minute, Umm Salal's Brazilian forward Vinicius Araujo's strike from in front of the goal was staved off by Al Duhail custodian Shehab Ellethy.
Goalkeeper Beldi again stood guard for Umm Salal when, in the 88th minute, he jumped high to keep out Al Duhail substitute Khaled Mohammed's long-range curling strike.
Earlier in the opening half, Umm Salal had come close to scoring in the 19th minute when their Jordanian midfielder Yassin Al Bakhit moved down the left and moved into the danger area beating two defenders to strike, but an alert Al Duhail goalkeeper leapt high to stave off the threat before collecting another resulting kick safely.
In the semifinals, Umm Salal had defeated Al Arabi 2-1 and Al Duhail beat Al Sadd 3-1.