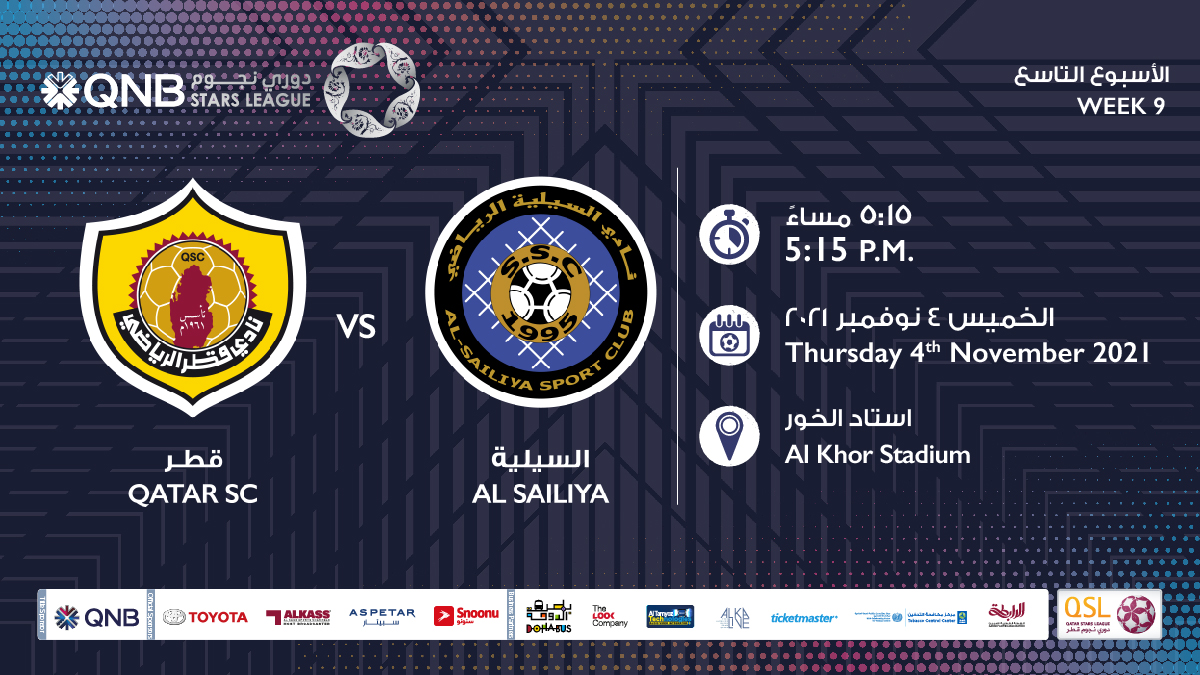 Thursday, 4th November, 2021
17:15 kick-off at Al Khor Stadium
Qatar SC face Al Sailiya in Week 9 of the 2021-2022 season QNB Stars League. The kick-off is at 17:15 at the Al Khor Stadium on Thursday, 4th November, 2021.
Qatar SC, who lost 1-2 to Al Duhail in the last round, slipped to ninth from seventh position in the table as they stood on six points (one victory, three draws and four defeats). The Kings have a goal difference of -4 (seven goals for and 11 against).
Moroccan Youssef Safri-coached Qatar SC badly need points at this stage if they are to cherish any hope of finishing among the top four.
Qatar SC's Algerian defender Djamel Benlamri had returned from an injury layoff and played against Al Duhail. His injured compatriot and forward Youcef Belaili may follow suit against Al Sailiya.
Meanwhile, Al Sailiya are also in a desperate situation, occupying 11th place with five points (one victory, two draws and five defeats). The Peregrines have a goal difference of -10 (five goals for and 15 against).
In fact, Al Sailiya and Al Ahli have the same number of points, but the latter are placed above in the standings by virtue of having a better goal difference, with that of Al Ahli being -5.
Al Sailiya, coached by Tunisian Sami Trabelsi, are sure to give off their maximum efforts and that should make the contest enticing.