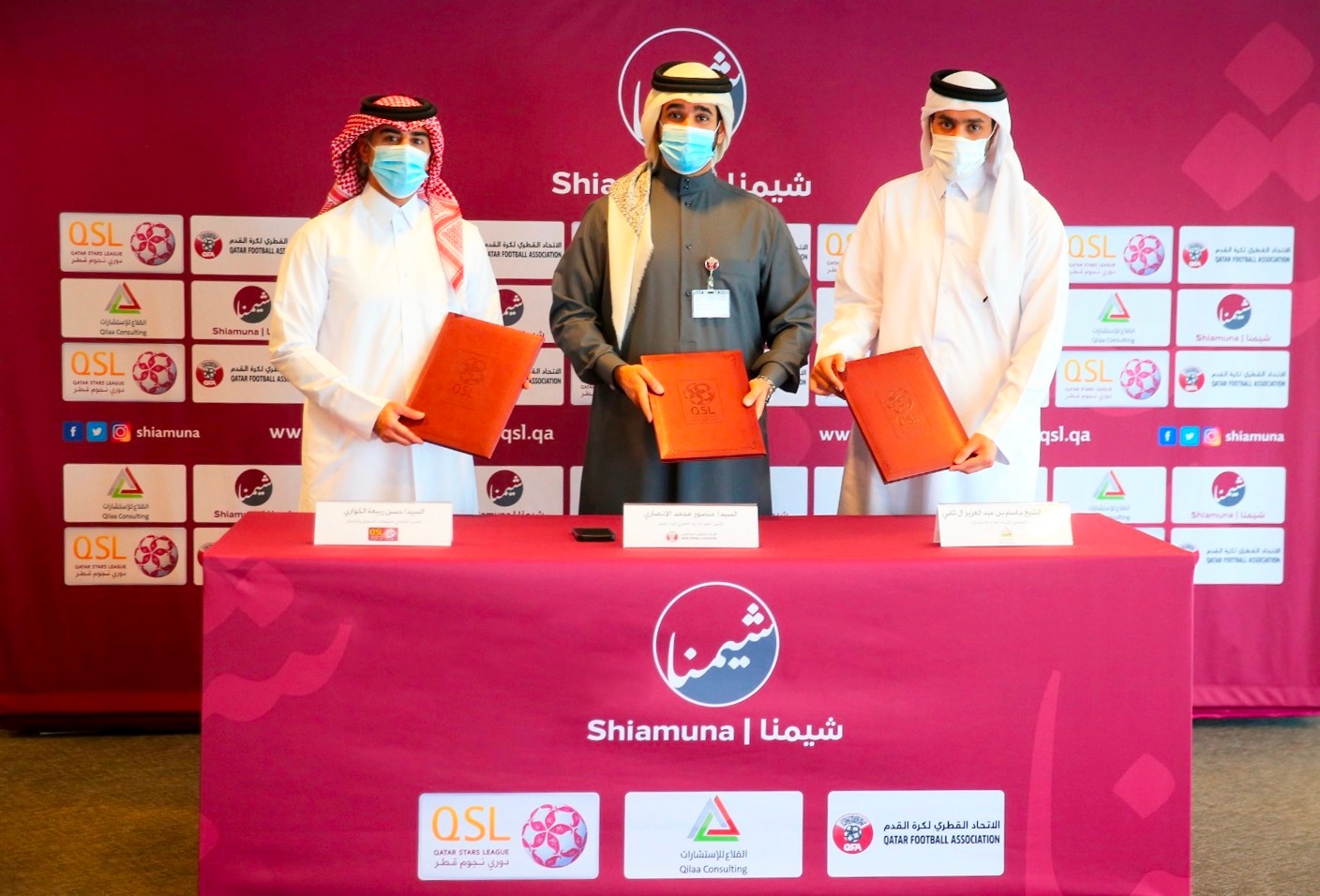 The Qatar Football Association (QFA) and Qatar Stars League (QSL) signed a co-operation agreement with Qilaa Consulting company in order to implement the 'Shiamuna' initiative, which is an awareness campaign for the public, citizens and residents alike, seeking to spread values, morals and good habits in Qatar by using sports as a base. It focuses on a number of themes, the most important of which are – respect, public morals and fair play.
The initiative aims in general to drum up the general atmosphere in the State of Qatar in preparation for the FIFA World Cup Qatar 2022 and to welcome the fans reaching for the tournament by highlighting our distinctive and hospitable Qatari identity.
The agreement signing ceremony, held on Wednesday, 26th January, 2022, at the Al Bidda Tower, the headquarters of Football Family, was attended by His Excellency Sheikh Jassim bin Abdulaziz Al Thani, CEO of Qilaa Consulting company.
On the occasion, Mr. Mansoor Al Ansari, General Secretary of QFA, said, "I would like to commend the objective of this initiative, which focuses on preparing the general atmosphere and fans ahead of the World Cup, as the QFA and various partners are working to make the tournament the best version of World Cup. We also welcome and support various constructive initiatives aimed at developing Qatar football in all aspects."
On his part, Mr. Hassan Rabiah Al Kuwari, Executive Director of Sales, Marketing and Communication at QSL, said, "A distinguished initiative and a step in the way of developing our competitions by focusing on an important axis, which is the fans in general, as this initiative will be implemented in tournaments organised by QSL through a series of events and activities aimed at activating the initiative, and I wish success to all in the efforts to achieve common goals."
In this context, Sheikh Jassim bin Abdulaziz Al Thani stressed the importance of the Shiamuna initiative in building a project that reflects the morals and decency of the people of Qatar, and comprehensive behaviour awareness in preparation for the World Cup, as well as building sports awareness in Qatar and beyond.
Regarding the vision, goals and values ​​of the initiative, Sheikh Jassim bin Abdulaziz Al Thani said the vision was to make it a more beautiful Qatar. As for the goals of the initiative, they are upgrading the human aspect, progress and demonstration of the beautiful values ​​in our society, and the most important values ​​that would be focused on are role models, altruism and patriotism.
"There'll be co-operation and work with QFA and QSL to activate the initiative through matches and at stadiums, and there will be a programme to introduce the initiative outside the State of Qatar. Work is currently under way to develop an integrated programme for the initiative to achieve its desired goals. A number of agreements will soon be signed with many private institutions and companies to support the initiative. I thank QFA and QSL for supporting the initiative, considered as one of the most important community initiatives reflecting our values ​​and morals that we will demonstrate during the 2022 World Cup."