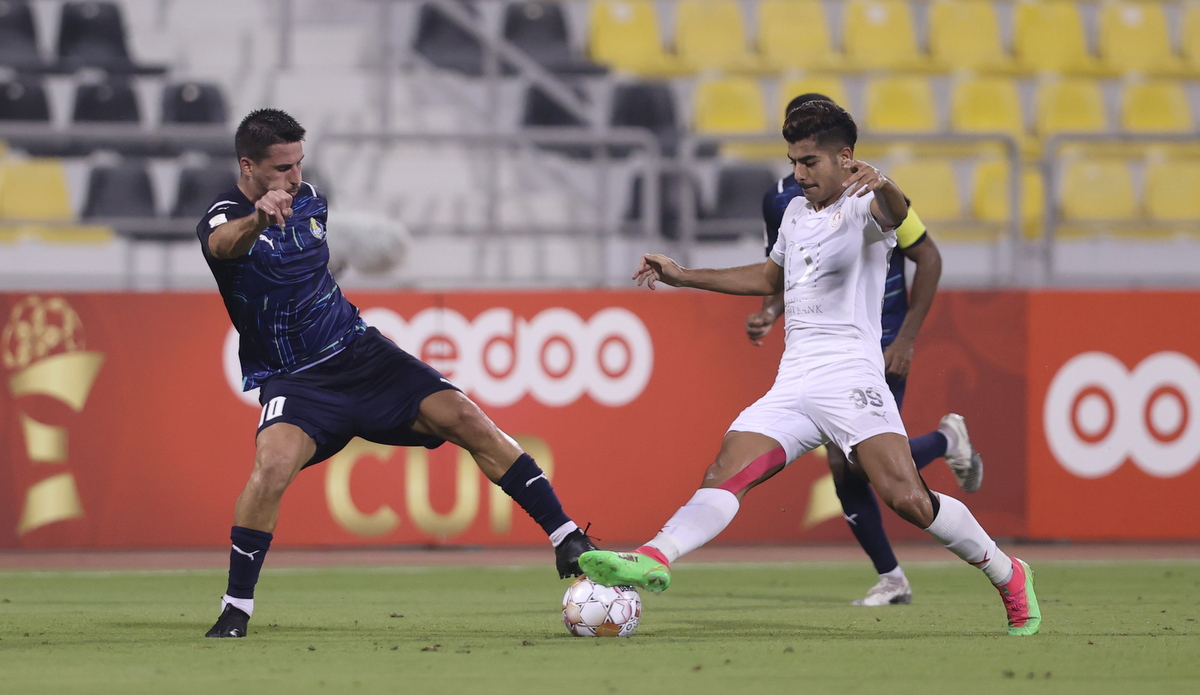 Al Arabi and Al Gharafa played out a 3-3 draw in Round 3 (Group B) of the 2021-2022 season Ooredoo Cup at the Qatar SC Stadium on Monday.
For Al Gharafa, Mohammed Ismail (ninth minute), Muyad Hassan (45+2) and Sofiane Hanni (84th-minute penalty) scored.
Abdulaziz Al Ansari (26th and 78th minutes) and Abdulqadir Ilyas (64th minute) scored for Al Arabi.
Al Arabi and Al Gharafa moved on to three and two points respectively.
Al Arabi have played three matches and Al Gharafa two.
The fast-paced match saw thrilling action at both ends in either half and the final scoreline underlined that.
Al Gharafa surged ahead before long from the start as Mohammed Ismail placed the ball home from close when Al Arabi goalkeeper Sataa Al Abbasi failed to block a cross from the left by Jassim Al Zarra even as Al Arabi's Fahad Shnein was waiting to clear the ball.
A couple of minutes later, Al Arabi launched an attack and Ilyas' free-kick flew over the bar.
Al Arabi equalized through their livewire Al Ansari, who took the ball all the way from his own half and moved up. He then played a one-two with Rami Suhail before finding the target past Al Gharafa goalkeeper Ahmed Sofyan.
The game really picked up pace from then on and Al Gharafa's Gabriel Pires' left-footer went narrowly wide.
Hanni made a couple of feeble attempts, while Suhail and team-mate Hamed Ismail sent their shots straight to the goalkeeper.
Al Gharafa made it 2-1 just before the half-time whistle as captain Muyad found the back of the net with a clean shot taken from just outside the penalty box.
Action continued unabated after change of ends and Ilyas helped Al Arabi draw level by heading in Aron Gunnarsson's free-kick.
Teams matched ball for ball and Al Ansari scored a second time as Al Arabi went 3-2 up.
Not long after, Al Gharafa levelled the score as Hanni converted a penalty awarded by referee Sultan Al Sharshani after Al Arabi's Yousef Muftah 'handled' Al Gharafa's Othman Al Yahri's goalbound shot.
In the closing minutes, Al Arabi earned two free-kicks, but they were sent out by Gunnarsson and Farshid Ismaili.